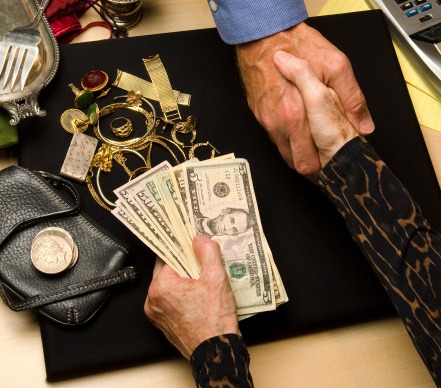 We are always happy to exchange cash for gold. We are a well-established, locally owned business that has been buying gold and other jewelry for many years. With gold valued at or near all-time highs, it is a great time to sell us your old gold that is broken or sitting unused in a box or cabinet drawer. It is a fantastic way to make cash, quickly. Our courteous, professional, and knowledgeable staff will inspect and evaluate your items and give you a quote for your gold in just minutes.
If you have meaningful pieces of gold or other jewelry, you may instead opt to temporarily use your item for a loan. Regardless of which service you choose, we will hand you cash in a matter of minutes!
If you're looking to buy, our well-trained staff authenticates the precious metals and diamonds in our stores, inspecting them and testing them to ensure you get a beautiful, genuine piece. We back our precious metals and diamonds with a guarantee and our long-standing name and reputation. We determine prices based on gold weight and/or diamond weight, shape, color and clarity. We also professionally clean and polish all jewelry items so they're like new, yet a fraction of the cost.
Visit any of our five Cash in a Flash Pawn store locations today to sell your gold.